Ta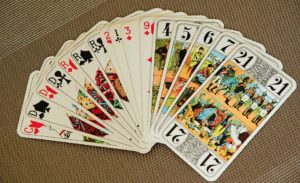 rot card readers have been in existence for many years. They guide people forward to make decisions in various areas of clients' lives. Readings also offer relevant information regarding situations a person may have, ranging from romantic relationships, to careers, finances and business.  Tarot readers' methods have been modernized and influenced by technology, such as readings done online.  The client is connected and engaged in the reading just the same as when the tarot reader is sitting beside them.
A tarot card reading session can be found on the streets of many cities throughout the world. There is one common practice where a tarot card reader shares the tarot card meanings and live readers are able to enlighten their clients. That is the basic type of consultation that many tarot card readers offer. Most tarot card readers ask for payment in exchange for the reading and insights that are gained during the session.  Tarot readers may engage clients by advising or suggesting actions and decisions relevant to the client's important issues.
Tarot card reading, as a practice and method, have many benefits. Knowing and understanding each benefit is listed in this article below.
Alternative Solutions
Consulting a tarot card reader is opting for an alternative, if a person has run out of solutions or is extremely weary of the current situation. Having an alternative is helpful, especially when a client may have a narrow vision regarding decisions and the possible actions that can be taken. Plus the tarot card reader might suggest other viewpoints pertinent to the problem at hand. Sometimes, we make decisions without carefully acknowledging things that could affect the overall result. We tend to become so worried and troubled that we just choose the easier path, or we do not take action at all, which may worsen the consequences. This is where a tarot card reader's role as an alternative adviser comes into action. If you seek help from them, you place your trust in their abilities to help you alleviate your challenging situations.  Readers act as spiritual advisors who share their mystical knowledge with you regarding your current situation. They are also personal advisers who work to guide you in the best way possible.
Rethink Decisions
We may have had challenging situations in the past that affected our present environment. Consulting tarot card readers regarding the present situation is a great opportunity to rethink previous decisions, learn from the past and choose an alternate successful path for the future.  Instead of continuing to repeat the same patterns or habits, tarot card readers are there to help us to choose a different way.  Tarot card readers may be found in your neighborhood, at special events and venues. Plus there are also websites that offer tarot card readings online.
Hope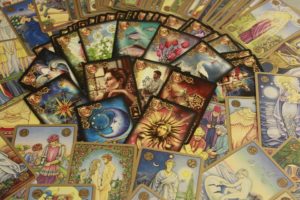 Certain challenges make us feel hopeless. Admitting one's weaknesses provide opportunities to learn, but it is important to focus on having hope for the future.  Don't settle; strive to better your current situation and move forward in your life. Step away from old habits and patterns and be the change you want in your life. Having a tarot card reading session brings options, new ideas and hope to those who feel like they want to give up. Tarot card readers provide new perspectives, new ways of thinking and validation.
Awareness
A tarot card reading session could also improve our awareness of the actions we take, the things we say and even the relationships we make. They are beneficial in reminding us of our aspirations, decisions and the desires we have in our day-to-day lives. A tarot card reading session is not only about opening up your life and secrets to a special person, but it is also like having a companion who is ready to listen to problems you may have. It raises self-awareness, while helping you to realize how other people may influence our lives. These tarot card readers are like advisers and counselors that understand our problems and are there to assist us, engage in discussions, and support us.
Opinions
Having a second opinion helps us to validate our thoughts and situations. Seeking the help of tarot card readers is also favorable because they have special skills and knowledge that we might never find with other people who want to help us. Putting trust in a reader allows them help you in the best way possible. By giving readers a chance to speak with you about your problem or present circumstance is a step towards seeking opinions from others. These opinions matter because it reminds us that there are people who want to help us in times of great distress. This is important not only for our decision-making, but also for our personal wellbeing, when we are open to the suggestions of others.  This means that we regard ourselves as people who are capable of engaging with others through meaningful relationships.
Consulting tarot card readers can be beneficial in many ways. Through finding alternative solutions, rethinking decisions, getting second opinions, clients may gain insights or awareness and are offered hope for their future.  These are some of the many benefits from seeking advice from tarot card readers. Feel like we missed something? Comment below and let us know what you feel.
Images by jackmac and glegle under Public Domains CC0