Welcome to Coquitlam Tarot with Vicki...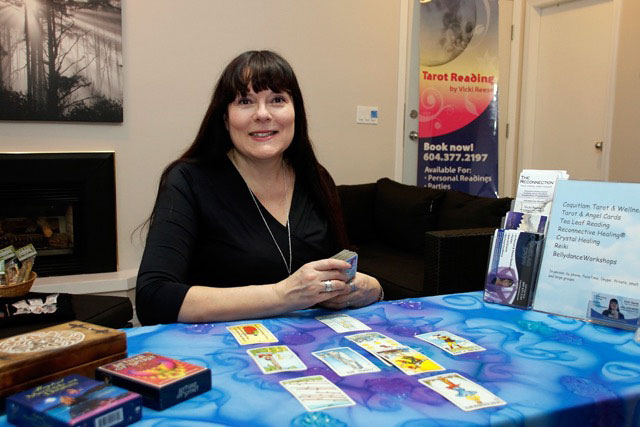 Vicki has been reading Tarot cards professionally since 2010 at various venues in the Lower Mainland. She has provided readings at grad parties, stagettes, bridal showers, birthday parties and a variety of fundraisers. Vicki has been a regular Tarot Reader/Healer at many Psychic & Wellness Fairs in Coquitlam, Surrey and Vancouver. Donating Tarot Readings at the Coquitlam Relay for Life is one of her special events she has supported for over ten years.
One of her deep interests lies in receiving messages from Spirit through Intuitive Tea Leaf Reading, and Divine Guidance Oracle Cards by Cheryl Lee Harnish. Vicki became one of the first CLH Certified Professional Intuitive Readers and will be reading with the new deck "Return of Spirit". The fractal images are of high vibration and aid clients in receiving Guidance directly from Source. The oracle cards are a tool that can help us to connect to our higher selves, to receive peace, comfort, validation and insights that we seek in life.
Her greatest reward is assisting clients to remove energy blockages with Reconnective Healing. This works on a Mind, Body or Soul level and works on whatever area is of most need first. Vicki also provides Distance Healing.
Vicki's mission is to encourage others to move forward, walk their path with faith and confidence to transform and heal their lives.
If you would like to book a reading
Please Call or Text:
604-377-2197
What Clients Are Saying:
B.R. - When I went to see Vicki it was because I needed help with a current situation in my life. During the third spread everything became clear and she was able to tell me details that I had not yet told my closest friends. Thank you Vicki, for your priceless guidance.

C.W. - I really enjoyed having more than one spread during our tarot readings, I felt it provided more information than just a single spread. The best part for me was seeing my daughter get excited looking in her own teacup. The excitement and knowledge are priceless.

S.B. - Vicki is an amazing tarot reader. She told me I would be changing residence. At the time, I couldn't imagine such an event. In retrospective, Vicki was dead on! I am a regular client now because she provides invaluable insight and guidance that I can't get from anyone else.

J.D. - I had two readings within weeks of each other for different reasons both confirmed the other reading and both were accurate!! My life has never been better and I believe Vicki's readings helped me greatly to not over react!! Thank you so much Vicki… I refer you to everyone!!! Xoxox

B.B. - I just had to let you know that so much of what you said in my reading has turned out. I got a new job. We finished the negotiations today and i will be signing off my revised job offer tomorrow. I could have stayed at my job but thought a fresh start was the way to go. Just like your reading had said. Your readings are getting very accurate and I just wanted to let you know. Thanks so much.
Hours
| | |
| --- | --- |
| Monday | 5:00 pm - 9:00 pm |
| Tuesday | Closed |
| Wednesday | 5:00 pm - 9:00 pm |
| Thursday | Closed |
| Friday | 5:00 pm - 9:00 pm |
| Saturday | 9:00 am - 1:00 pm |
| Sunday | 9:00 am - 1:00 pm |
Coquitlam Tarot is happy to provide secure online payments through PayPal! (no PayPal account needed!)